WINE
SOMMELIER & ENOMATIC®

Albertina loves cuisine and wine. If one should treat a culinary work as a picture, then wine becomes its frame, and their mutual relationship is extremely important for the reception of the whole piece. Since 2019, sommelier Jakub Filipek creates the proper setting for an outstanding cuisine, carefully and with imagination. The fruit of his bold selections consists in a creative and varied wine list from valued vineyards from Europe and the world, as well as a seasonally changing collection of 32 wines available in glasses from Enomatic® dispensers.
For person who loves wine, culinary, traveling and history the job of sommelier was simple choice. He belives that nowadays we can find extraordinary labels all over the world. He developed his passion and skills in the best restaurants in Cracow. Graduates courses prepared for well known associations like WSET and CMS. He is certified sommelier of Association of Polish Sommeliers and also the winner of the competition of young polish sommeliers in 2019th.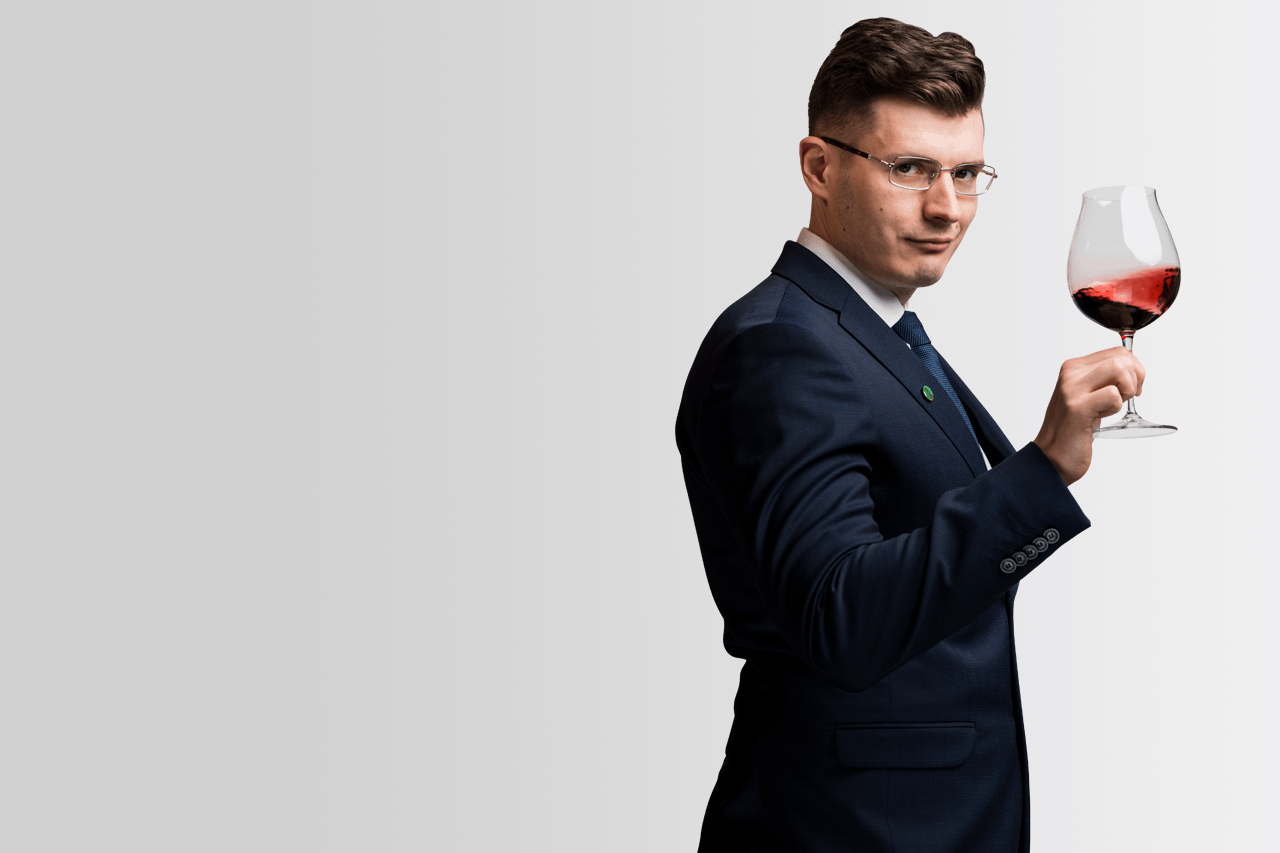 ALBERTINA & WINNICA WIELICZKA VINEYARD
CHARDONNAY WINE
True passion, enriched with experience constitutes the best foundation for unusual projects. And Albertina's owners' passion for wine resulted in something special – three vintages of own wine with a non-accidental name: Albertina Chardonnay 2016, 2017, and 2018. This unique event in the culinary industry was possible thanks to the restaurateurs establishing fruitful cooperation with a pioneer among Polish vineyards – the Wieliczka Winery. It is run in a biodynamic system by outstanding specialists: Agnieszka Rousseau and Piotr Jaskóła. The cultivation of vines takes place without synthetic plant protection products and artificial fertilizers, and using the potential of nature to the maximum is in line with the priorities of Albertina's owners. Their personal commitment in the original wine production process gives a great sense of satisfaction that they can serve their guests such a special wine. While the lobster placed on the original label is a symbol of a conscious, balanced suggestion of wine pairing – a fundamental principle prevailing at the restaurant.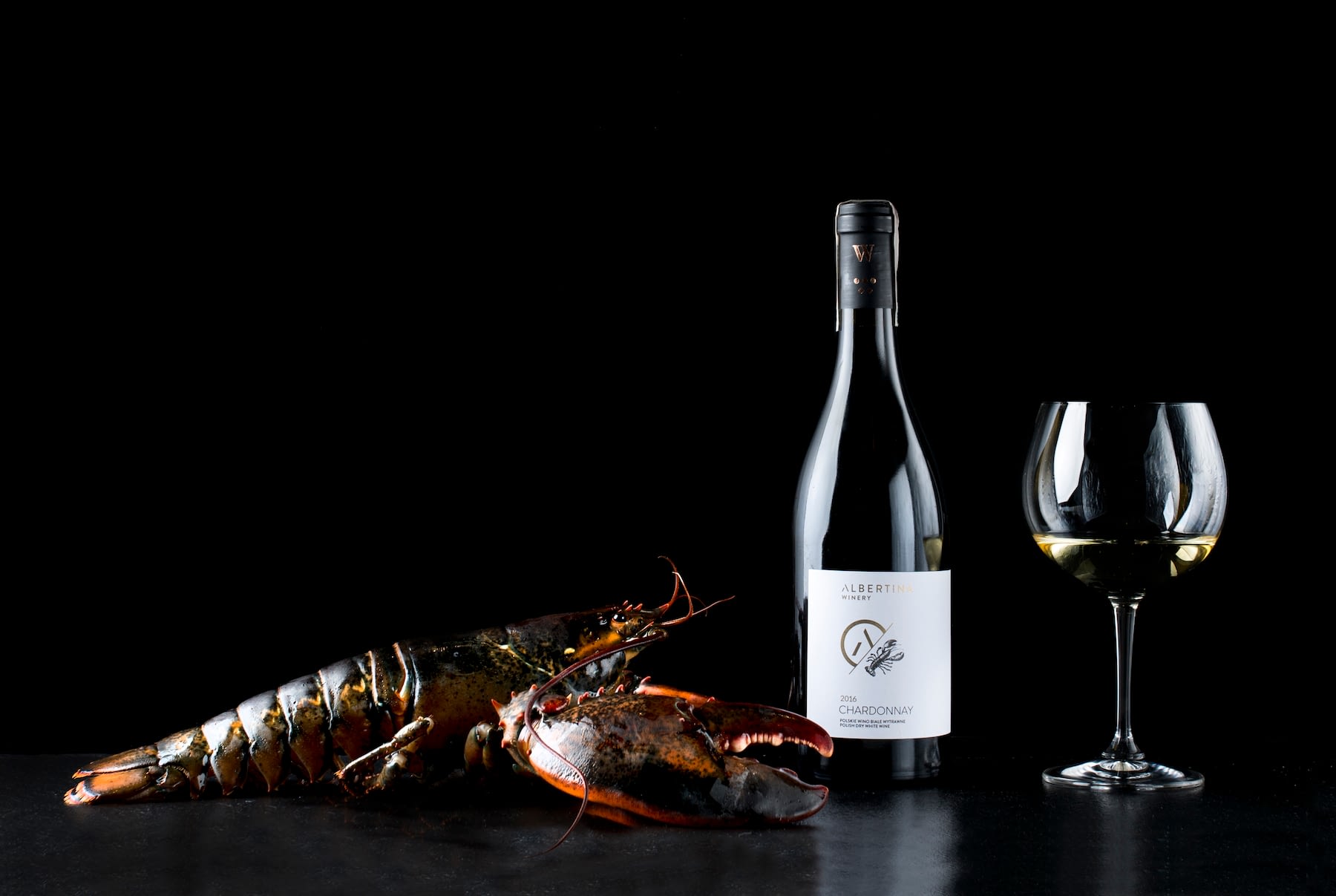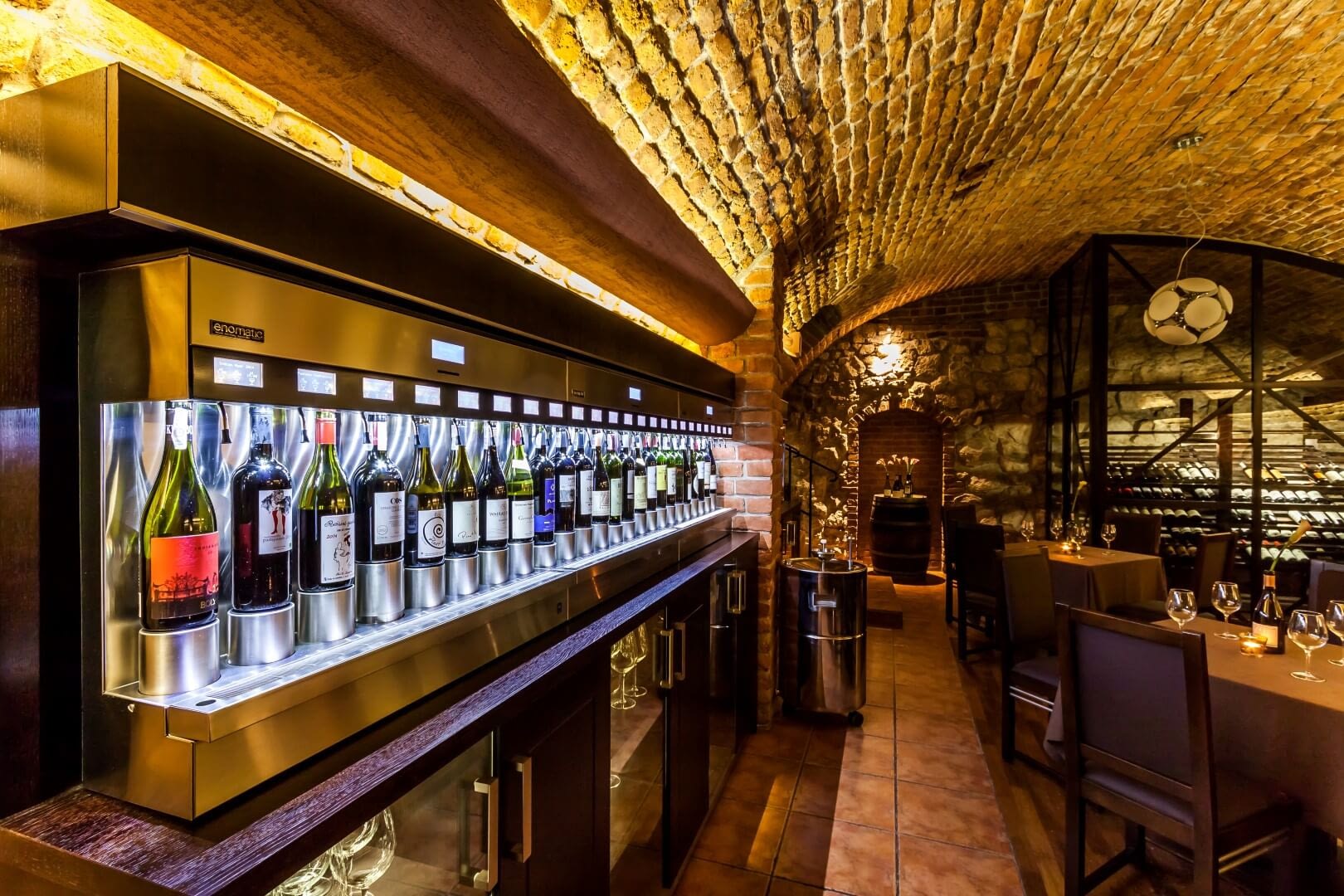 FOOD & WINE
PAIRING

At Albertina, food & wine pairing – a synergistic composition of wine and food – is implemented thanks to the unique, self-service system of Enomatic® wine dispensers. This is the largest installation of this type in Poland. It creates the possibility to taste wines from around the world without having to buy an entire bottle, which in the case of very expensive or not yet known wines is an undoubted advantage and carries an educational value.
The sommelier skillfully suggested a wine option for each item on the menu, to delight both beginners and wine aficionados. Providing the guests with a recommendation of classic combinations, such as lobster with Chablis or duck with Pinot Noir, he set a goal of showing alternatives that surprise, but also evoke reflection and pleasant emotions. All 32 wines from this unique collection are available to guests in an atmospheric wine bar, where one can freely taste the wine: comparing different bottles, looking for personal preferences, composing them with the ordered meal, also according to one's wish. And what is important from the point of view of the tasting practice, the wines are served in three different portions: tasting 25ml, 75ml, and 125ml.
WINE LIST – AUTUMN 2022
TASTING MENU – WINE PAIRING
Hidden Gems – 350 PLN
Gewürztraminer 2021 Franz Haas, 75 ml
ZAHA Marsanne 2018 Bodega Teho, 75 ml
Savennières Clos de St. Yves 2019 Domaine des Baumard, 75 ml
Pinot Noir Dobre Minor 2020 Kamil Barczentewicz, 75 ml
Hárslevelű-Furmint Nyulászó 2018 Budaházy, 75 ml
Cabernet Franc Las Higueras 2017 Garage Wine Co, 75 ml
Grüner Veltliner Auslese 2017 Schloss Gobelsburg, 50 ml
Great Classics – 570 PLN
Sancerre Clos de Beaujeu 2020 Gérard Boulay, 75 ml
Cartology 2019 Alheit Vineyards, 75 ml
Riesling Berg Schlossberg 2017 Georg Breuer, 75 ml
San Juan Anteportalatina 2018 Pujanza, 75 ml
Puligny-Montrachet 2020 Jacques Carillon, 75 ml
Barolo Ravera 2015 Elvio Cogno, 75 ml
Johaniter Lodowe 2020 Winnica Turnau, 50 ml
CHAMPAGNE AND SPARKLING WINES BY THE GLASS
CHAMPAGNE
Champagne Assailly-Leclaire & Fils
Cuvée Blanc de Blancs, Brut Nature, NV
Champagne Duménil
Millésime Premier Cru, Brut, 2008, Magnum (1,5L)
| | | 125ml | 1500ml |
| --- | --- | --- | --- |
| | | 100,00 | 1190,- |
SPARKLING WINES – TRADITIONAL METHOD
POLSKA / POLAND
Traditio, Brut 2020 Winnica Aris
WHITE WINES BY THE GLASS & ENOMATIC®
POLISH WHITE WINES
POLAND, Małopolski przełom Wisły – Lubuskie
Riesling Restricted 2017 Dom Bliskowice
| | 75ml | 125ml | bottle |
| --- | --- | --- | --- |
| | 30,00 | 50,00 | 300,- |
SOMMELIER'S CHOICE
ITALY, Trentino Alto Adige
Gewürztraminer 2021 Franz Haas
| | 75ml | 125ml | bottle |
| --- | --- | --- | --- |
| | 33,00 | 55,00 | 330,- |
HUNGARY, Tokaj
Hárslevelű-Furmint Nyulászó 2018 Budaházy
| | | | |
| --- | --- | --- | --- |
| | 75ml | 125ml | 750ml |
| | 39,00 | 65,00 | 390,- |
ARGENTINA, Mendoza
ZAHA Marsanne 2018 Bodega Teho
| | | | |
| --- | --- | --- | --- |
| | 75ml | 125ml | 750ml |
| | 39,00 | 65,00 | 390,- |
SOUTH AFRICA, Western Cape
Cartology 2019 Alheit Vineyards
| | | | |
| --- | --- | --- | --- |
| | 75ml | 125ml | 750ml |
| | 42,00 | 70,00 | 420,- |
FRANCE, Loire Valley
Savennières Clos de Saint Yves 2019 Domaine des Baumard
| | | | |
| --- | --- | --- | --- |
| | 75ml | 125ml | 750ml |
| | 45,00 | 75,00 | 450,- |
FRANCE, Loire Valley
Sancerre Clos de Beaujeu 2020 Gérard Boulay
| | | | |
| --- | --- | --- | --- |
| | 75ml | 125ml | 750ml |
| | 57,00 | 95,00 | 570,- |
SPAIN, Rioja
San Juan Anteportalatina 2018 Pujanza
| | | | |
| --- | --- | --- | --- |
| | 75ml | 125ml | 750ml |
| | 75,00 | 125,00 | 750,- |
GERMANY, Rheingau
Riesling Berg Schlossberg 2017 Georg Breuer
| | | | |
| --- | --- | --- | --- |
| | 75ml | 125ml | 750ml |
| | 78,00 | 130,00 | 780,- |
FRANCE, Bourgogne
Puligny-Montrachet 2020 Jacques Carillion
| | | | |
| --- | --- | --- | --- |
| | 75ml | 125ml | 750ml |
| | 93,00 | 155,00 | 930,- |
FRANCE, Bourgogne
Meursault 1er Cru Blagny 2016 Domaine Antoine Jobard
| | | | |
| --- | --- | --- | --- |
| | 75ml | 125ml | 750ml |
| | 147,00 | 245,00 | 1470,- |
DESSERT & FORTIFIED WINES
POLAND, West Pomeranian
Johanniter Lodowe / Polish Ice Wine 2020 Winnica Turnau (0,375 l)
| | 50ml | 75ml | bottle |
| --- | --- | --- | --- |
| | – | 85,00 | 420,- |
HUNGARY, Tokaji
Tokaji Aszú 5 Puttonyos 2014 Tokaj Nobilis (0,5 l)
| | | | |
| --- | --- | --- | --- |
| | 50ml | 75ml | 500ml |
| | – | 79,00 | 490,- |
AUSTRIA, Kamptal
Grüner Veltliner Auslese 2017 Schloss Gobelsburg (0,375 l)
| | | | |
| --- | --- | --- | --- |
| | 50ml | 75ml | 375ml |
| | – | 60,00 | 300,- |
NIEMCY / GERMANY, Mosel
Riesling Rausch Auslese 2018 Zilliken
| | | | |
| --- | --- | --- | --- |
| | 50ml | 75ml | 750ml |
| | – | 79,00 | 790,- |
ITALY, Trentino Alto Adige
Moscato Rosa 2020 Franz Haas (0,5 l)
| | | | |
| --- | --- | --- | --- |
| | 50ml | 75ml | 500ml |
| | – | 60,00 | 390,- |
PORTUGAL, Porto
Kopke 20 Years Old Tawny Port
| | | | |
| --- | --- | --- | --- |
| | 50ml | 75ml | 750ml |
| | – | 65,00 | 650,- |
RED WINES BY THE GLASS & ENOMATIC®
POLISH WINES
POLAND, Lubelskie
Pinot Noir Dobre Minor 2020 Kamil Barczentewicz
| | 75ml | 125ml | bottle |
| --- | --- | --- | --- |
| | 36,00 | 60,00 | 360,- |
EUROPE
FRANCE, Rhône Valley
Brézème Vieille Serine 2016 Eric Texier
| | 75ml | 125ml | bottle |
| --- | --- | --- | --- |
| | 45,00 | 75,00 | 450,- |
ITALY, Tuscany
Vino di Nobile Montepulciano Riserva 2016 Boscarelli
| | | | |
| --- | --- | --- | --- |
| | 75ml | 125ml | 750ml |
| | 48,00 | 80,00 | 480,- |
SPAIN, Rioja
Viña Tondonia Red Reserva 2010 R. López de Hereida
| | | | |
| --- | --- | --- | --- |
| | 75ml | 125ml | 750ml |
| | 57,00 | 95,00 | 570,- |
FRANCE, Bourgogne
Chambolle-Musigny Vieilles Vignes 2013 Frédéric Magnien
| | | | |
| --- | --- | --- | --- |
| | 75ml | 125ml | 750ml |
| | 66,00 | 110,00 | 660,- |
ITALY, Piedmonte
Barolo Ravera 2015 Elvio Cogno
| | | | |
| --- | --- | --- | --- |
| | 75ml | 125ml | 750ml |
| | 87,00 | 145,00 | 870,- |
FRANCE, Bourgogne
Morey-Saint-Denis 1er Cru Clos Baulet 2013 Hubert Lignier
| | | | |
| --- | --- | --- | --- |
| | 75ml | 125ml | 750ml |
| | 117,00 | 195,00 | 1170,- |
FRANCE, Bordeaux
Pomerol 2011 Château Clos L'Église
| | | | |
| --- | --- | --- | --- |
| | 75ml | 125ml | 750ml |
| | 138,00 | 230,00 | 1380,- |
NEW WORLD
CHILE, Maipo Valley
Cabernet Franc Las Higueras 2017 Garage Wine Co
| | 75ml | 125ml | bottle |
| --- | --- | --- | --- |
| | 42,00 | 70,00 | 420,- |